How to survive Japanese banks
This article is, unfortunately, going to be a bit different from all the other "How to Japan" articles. In my previous articles, I tried to present a problem and show a solution to overcome the obstacles in my way. When it comes to Japanese banks, I'm afraid I haven't found that solution yet.
This article is, unfortunately, going to be a bit different from all the other "How to Japan" articles I posted on this site so far. In my previous articles, I tried to present a problem and show a solution I chose to overcome the obstacles in my way at the same time. When it comes to Japanese banks, however, I'm afraid I haven't been able to find that solution even after nearly three months of being here, so let this story be a cautionary tale and a documentary of an old, rigid, obsolete banking systems of Japan.
Maybe my mistake was just wanting too much. All I wanted was to have a bank account with a similar level of comfort to what I was used to back in the Czech Republic. I don't think Czech banks are particularly special in any way, but just in case I'm actually coming from a land where banks are amazing and the rest of the world is more similar to what I'm now experiencing in Japan, let me paint you a typical Czech bank account:
it's often free, and if it isn't, there are usually some simple rules to make it free (for example, if you receive your salary to that bank account, the bank often waives the monthly fee);
it always comes with a debit card (but rarely with a credit card), which you don't have to apply for nor get approved for, you just receive it, no questions asked – that is, after all, how you interact with your account most often;
it often comes with both the regular and a savings account;
and finally, it nearly always offers a nice Internet banking interface and a mobile banking application.
Or at least that was the case with Air Bank, a bank I've been happily using for the past few years, so I wanted to have something similar in Japan – ideally with the addition of Apple Pay, since I'm finally in a country where Apple Pay is officially supported. Oh, how naive I was.
First attempt: みずほ銀行 (Mizuho Bank)
Mizuho wasn't my bank of choice, and in fact, I wouldn't voluntarily go there – but apparently, it's a common practice to have a bank account at the same institution from which your employer will be sending you a salary, so on my second day, me and my co-worker Kimika went to Mizuho Bank. This visit to the bank had to happen during work hours, because banks in Japan are almost never open during weekends, and even their opening hours during work week are absolutely abysmal, often opening at 9 o'clock but closing before 4 o'clock – meaning if you wish to visit your bank, you have to normally take a day off ?.
Opening the bank account took nearly two hours, which is about 90 minutes longer than I'd prefer, and I was completely reliant on Kimika's help as not a single person in the office spoke English. I was given a choice between 8 different types of credit card and I chose a simple MasterCard with barely any bonuses or special features, as my prior research indicated that MasterCard is the safest choice for using with Apple Pay (and who needs to have a credit card that doubles as an ANA Mileage Club card when you have no holidays anyway?)
However, here comes problem number one of Japanese banking system: instead of being given a temporary debit card with a limited validity (as it is common in the US) or promised a swift card delivery by mail within a few days (the Czech way), I was informed that I'll receive the card… eventually… if they feel like it.
For now, I was given a bankbook (what is this, the 1950s?) that I can use in the ATMs (or maybe 1970s?) in order to deposit or withdraw money (or so I thought). I would love to show you how this bankbook looks like but unfortunately, I'm not entirely too sure how much of the information printed in it is sensitive and I would definitely not want to end up like these idiotic teenagers on Twitter who lost all of their money after they ever so graciously took photos of their brand new debit cards – both sides, of course. Either head to Google Images or simply imagine the transactions section of your Internet banking, printed out, with a magnetic stripe plastered over it.
Problem number two was just around the corner: with the newly acquired bankbook, I decided to deposit most of the money I had in cash into a nearby ATM, not because I'd ever be worried about getting robbed in Japan, but mostly because I was worried I could lose my wallet and with it, over 150.000 yen. Only after doing so was I told that bankbook is good for depositing money, but it will not allow me to withdraw the money ?. In the words of a famous YouTuber, "What were they thinking? ?"
Problem number three: after over two weeks of waiting for the credit card, I instead received a letter telling me that my application was denied and I'd be getting a cash card instead. What's a cash card? Good question, as I've never heard of it before coming to Japan either.
Apparently, to solve the gap between credit cards (which you might not get accepted for) and literally not having access to your bank account at all, Japan didn't go for the adoption of debit cards like any other sensible country but rather went its own way, with the introduction of cash cards. They look like debit cards but their only purpose is to deposit or withdraw money from ATM – and unlike bankbooks, these actually really work for withdrawal. Too bad it took more than three weeks for my cash card to finally arrive in an envelope filled with disappointment.
Side-problem number four: Japanese ATMs have opening hours. I'll just leave it at that because no matter how hard I could possibly try, I could not possibly ever come up with a more funny and ridiculous commentary. Sometimes, the reality is just unbeatable.
Problem number five: online banking. When you visit Mizuho Bank's website, it looks relatively nice and modern, so you might be under the impression that at least this is finally the part the technologically advanced country of Japan handled well… until you get redirected to a significantly worse looking login screen and realize that things will continue going downhill from here. To access the Internet banking for the first time, you have to fill in this lovely form in which the most difficult part is actually spelling your own name.
As you might notice, there's only one field for entering your name, and I have tried everything. VITMILAN? Vit Milan? VIT MILAN? ヴィートミラン? ゔぃーとみらん? Or is this one of the forms that actually requires first name, then last name? Neither of these, actually. The correct answer was VITMILAN, that is, all-caps, written in full-width romaji. The amount of rage this realization caused is indescribable.
Problem number six: after all of that effort, this is your reward: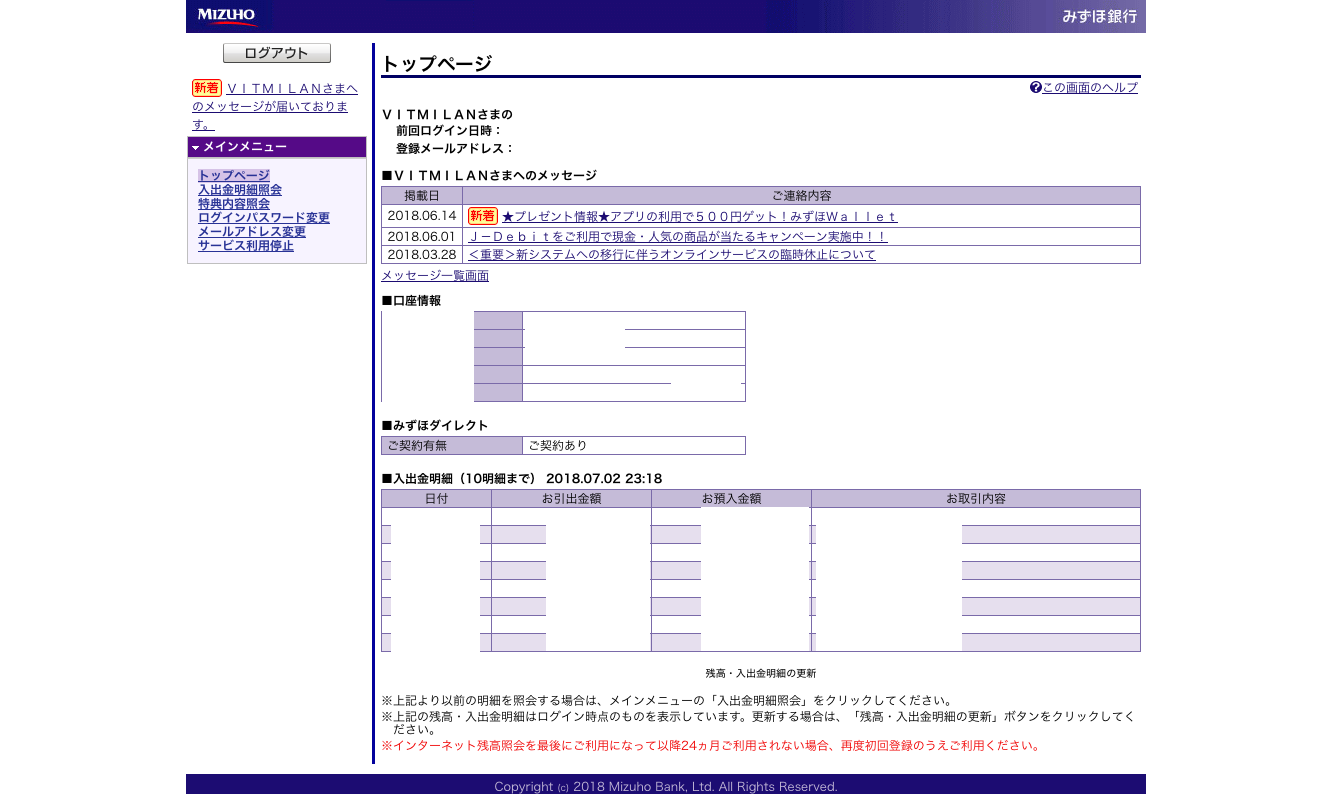 A read-only Internet banking that seems to be the definitive proof that time travel is possible, as this website surely must be from 1998. Oh, and you heard that right: read-only. You can't actually transfer money from here, you can only check your balance.
"I've had enough with Mizuho, let's try my luck elsewhere", I thought.
Interlude: 楽天カード (Rakuten Card)
Apparently, another thing that's fairly common in Japan is to have bank account at a… well, bank, obviously, but to have your credit card issued by completely different company, like Rakuten – so I tried to apply for a Rakuten credit card, and after two hours of filling the longest form in the existence of humankind, I was promptly rejected.
Second attempt: 新生銀行 (Shinsei Bank)
During the one and only day off I had so far, I tried opening a bank account at Shinsei Bank. I was told that they are very friendly to foreigners and that their product portfolio is more similar to what is normally common in Europe or the US.
Opening the account went without a hitch and I even got a cash card immediately, but to apply for their prepaid GAICA Flex card, I had to wait until Japanese government sends me マイナンバーカード (My Number Card/Individual Number Card). That actually happened just a week after (without me ever applying for it – that's some advanced bureaucracy!), so I made a copy of the card[1] and applied by mail. Two weeks later, I received the GAICA card, activated it online and subsequently realized that I can't use it for Apple Pay, which made me lose all interest… until this week.
One thing that's cool (relatively speaking – not cool when compared to western bank services, but still cool compared to all the other Japanese bank services) about the GAICA Flex card is that in order to put money on it (it's a prepaid card, after all), you don't have to withdraw money from your bank account with cash card and then subsequently deposit the money to GAICA. Instead, you can move the money online, instantly. At least in theory ?.
In reality, it works quite a bit differently: I started by logging in to my GAICA account (created during activating the card a month earlier) to charge the card only to find out that the page for online charging is surprisingly missing. When consulting the GAICA's "How to" section, it seemed like in order to charge the card online, I first need to enable the function from the Shinsei Bank Internet banking – but the option that should do so was also missing.
Knowing I can't take another day off just to visit my bank and sort it out with them, I tried calling Shinsei Bank. My phone calls with them went something like this:
First phone call to Shinsei: I was informed that the option to add the Flex functionality is only available in the Japanese version of Internet banking, not the English one. Oh, silly me, how could I not realize that? After concluding the phone call, I tried to complete the setup in the Japanese Internet banking but after the Internet banking redirected me to GAICA website to finish the process, I was met with an error indicating that something about my personal information doesn't quite match. It was at this point that I realized that the first and last name at Shinsei and at GAICA is probably slightly different. I voiced this concern during each subsequent phone call, but it still took the phone operators quite a bit longer to reach the same realization…
Second phone call to Shinsei: I was told that because the error happens on GAICA website, Shinsei can't do anything about it and I should call GAICA. Of course, GAICA support line is only available from 9:30 AM to 5:30 PM, neatly matching my work hours.
Third phone call to GAICA: I was told that on GAICA side, everything looks alright and I should pass this information to Shinsei.
Fourth phone call to Shinsei: I was told that there is likely a personal information mismatch between Shinsei and GAICA and I need to call GAICA to figure out which information is incorrect so that they can fix it. Looks like we're getting somewhere!
Fifth phone call to GAICA: I took the initiative and after explaining my entire story yet again (just imagine how painful it was to preface each phone call with five-minute-lasting description of the story so far ?), I told the phone operator that my personal information don't match and that I'll send them the correct information (as presented in Shinsei Internet banking) by e-mail and to kindly fix their ?. Surprisingly, this approach worked and after a few minutes, I was able to finish the pairing process between Shinsei and GAICA.
Finally, a few hours after the pairing was finished, I was able to transfer money between Shinsei and the GAICA card. Hard-fought victory ✌️! One last point regarding Shinsei Bank: it seems that Shinsei follows the Japanese tradition of having a (relatively) nice looking landing page of the website while having the rest of the site looking absolutely abysmal. Here are few screenshots of what passes as "Internet banking" in Japan: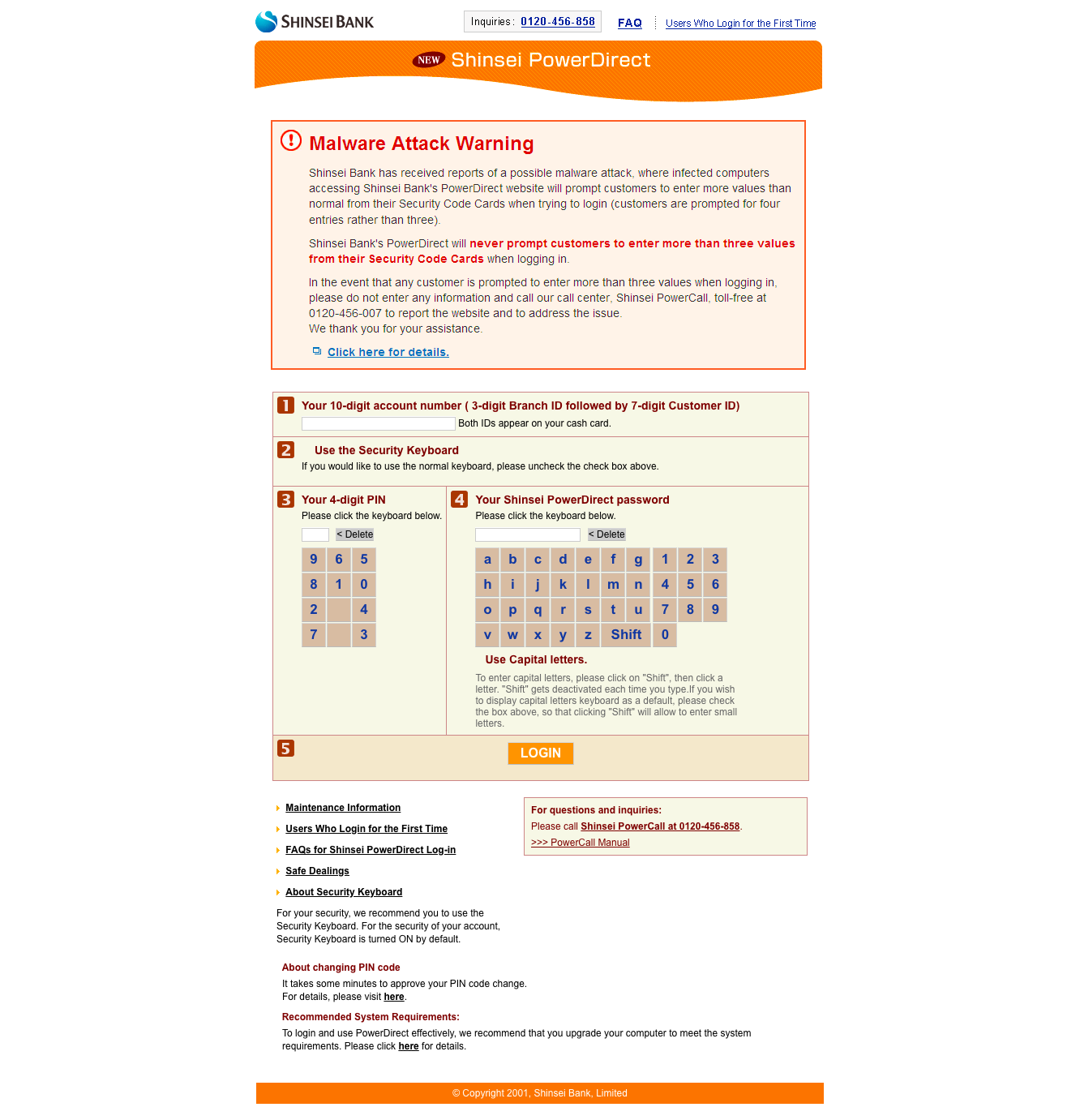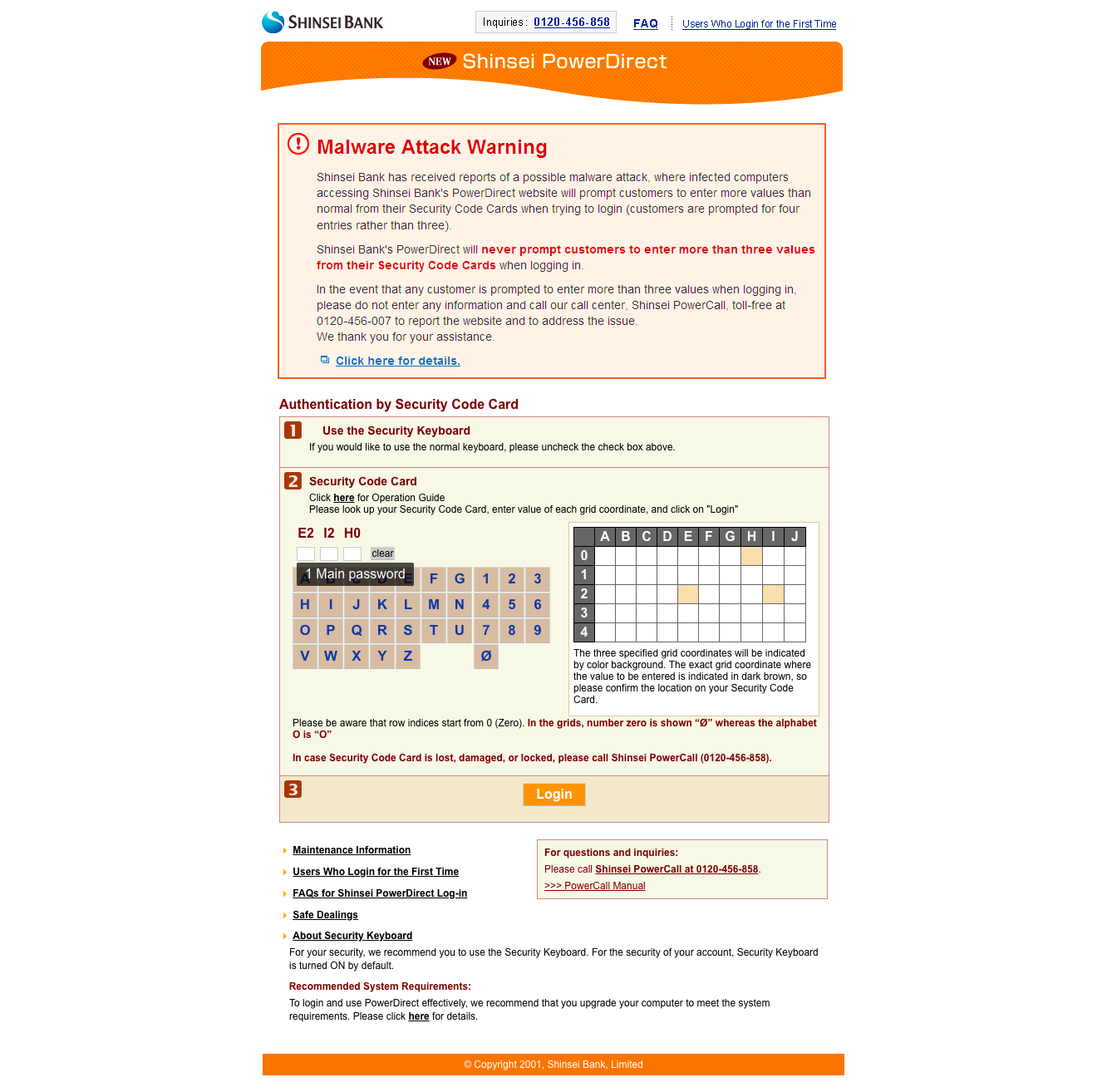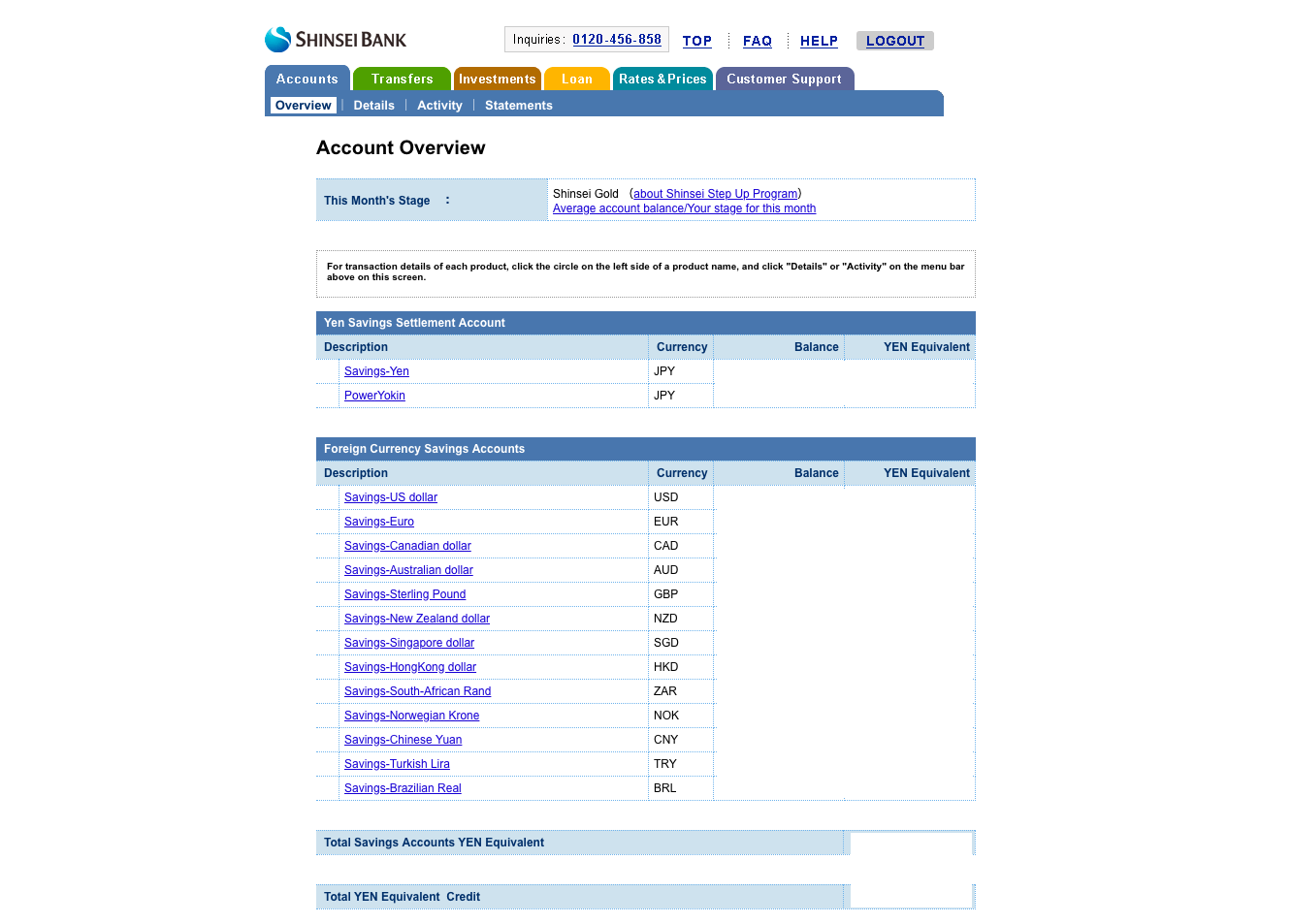 Interlude: アマゾンマスターカード (Amazon Master Card)
Okay, so Rakuten didn't work out, let's try Amazon. Three more hours of filling out even longer form, aaaand… yeah, rejected in minutes.
Third attempt: SMBC
In a so far final attempt to make Apple Pay work for me, I was recommended the SMBC bank by my co-workers. A quick inspection of their website revealed I can apply for the account online, which was a pleasant surprise, and so I started filling out pages after pages of forms yet again.
Next day, I received an e-mail saying that because I'm a foreigner, I need to open my bank account by visiting one of their offices in person, not online. You can guess three times their opening hours.
Conclusion
When I mentioned in the beginning of the article that I don't have any advice on how to actually survive Japanese banks and their quirks, that was not quite right actually as I have one piece of advice: abandon hope all ye who enter here ?.
---
By the way, if you are ever in a need of a copy machine while in Japan, know that any convenience store has one. Similarly, if you need to print anything, you can bring any document on a flash drive or SD card and have it printed. To make matters even more amazing, you can also send your documents or photos to the convenience store online! ↩︎